Electric Scooter Rentals with GoRide GPS Tours in San Francisco
Get ready for a wild ride, San Francisco style! GoRide is here to turn your city tour into an electrifying adventure with our GPS-guided electric scooter rentals. With our scooters, you'll be able to say goodbye to boring city tours and hello to a fun-filled excursion that you'll never forget!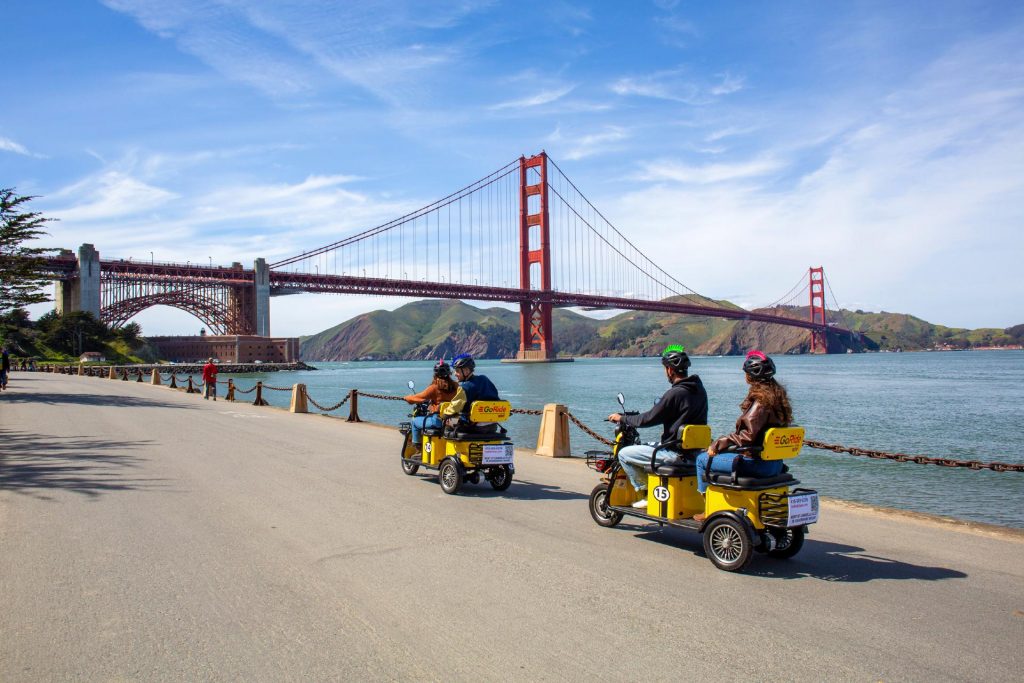 Two Wheels, Two Types of Fun!
We've got the perfect ride for you, no matter what kind of traveler you are. Whether you're a solo adventurer or a family of thrill-seekers, we've got you covered. Choose from our Fat Tire Scooter, perfect for solo riders, or the GoRide E-Trike Scooter that's ideal for families or groups of friends. With room for up to two adults or one adult and one child (ages 5+), this scooter is perfect for a day of bonding with your loved ones.
GPS-Guided Tour and an Audio Adventure
Forget about getting lost or wasting time in traffic! Our GPS-guided tour will take you straight from Fisherman's Wharf to the Golden Gate Bridge and back with ease. Plus, our audio guide is packed with information about the history, culture, and secrets of the city. So, you can kick back and relax as you enjoy the sights and sounds of San Francisco.

Cruise with Ease and Fun
Get ready to cruise the city in style! Our electric scooters are a fun and flexible way to get around, eliminating the hassles of parking and public transit. Imagine zipping along the waterfront with the wind in your hair and the sun on your face. With a rental time of 1.5 hours, you'll have plenty of time to see the city at your own pace.
Book Your Scooter Rental Adventure Today!
No matter if you're a first-time visitor or a seasoned traveler, a GoRide electric scooter tour is the perfect way to experience San Francisco like a local. Make memories that will last a lifetime and book your tour today! Let the good times roll!
Ages 18 and up. 
Reservations: 415-523-1300