Greetings from our Favorite City San Francisco!
The "Greetings from San Francisco" postcard mural was created in July 2019 as part of the Umbrella Alley SF project.  We invite you to visit the mural located in Fisherman's Wharf – a perfect backdrop for your San Francisco vacation photo.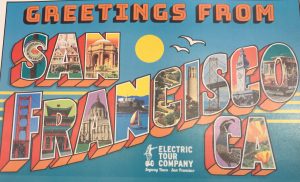 The "Greetings From San Francisco Mural" is sponsored by:
Drop in visit the Mural in Fisherman's Wharf :
Located in the drive way near the Wells Fargo ATM. Open Wednesday through Sunday 10am until sunset. Monday and Tuesday openings announced on UmbrellaAlleySF Instagram story.
Tag your photos with  #umbrellaalleysf
Check out updates and new pics on our social media channels:
About the Mural Artist Maxfield Bala
Artist Maxfield Bala has been commissioned to paint a new mural in Fisherman's Wharf at the headquarters of the Electric Tour Company and Lucky Tuk Tuk.
Read all about Maxfield and his many art and mural projects.