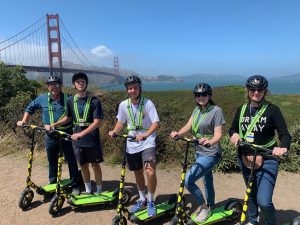 SF SCOOTER ADVENTURES -Private Group E-Scooter Tours in San Francisco
E-Scooter private group tours provide the best way to explore San Francisco's soaring views, exhilarating hills, and famous sights. Scoot through the city in a fraction of the time you'd spend walking!  Ride on the best – Imax S1+ Electric Scooters with large tires, spacious deck, powerful motors and a range of 15 – 20 miles. Every guest receives a radio receiver and earbud, ensuring you'll always hear what our tour guides have to say.
Reservations: 415-523-1300
3 HOUR ELECTRIC SCOOTER PRIVATE GROUP TOUR TO GOLDEN GATE BRIDGE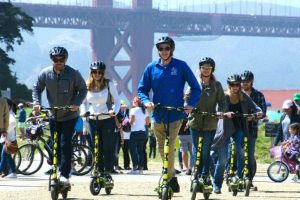 Our scooters not only have more power than the average rental but when you ride one, you're also cruising to the Golden Gate Bridge in style.  Best of all, scooters are a blast to ride!
Take off with yor group on our 3Hour Electric Scooter Tour that wheels through Maritime Park and then out to the Marina Green through the Presidio on the way to the Golden Gate Bridge. Enjoy incredible views of San Francisco Bay, Golden Gate Bridge, and the city skyline.
After a brief session on how to safely operate the electric scooter, you will explore San Francisco's Waterfront for approximately 3 hours. Private Tours are limited to 10 riders per tour guide.
Numerous stops perfect for Instagram  – so don't forget your smart phone.
PRIVATE TOUR RATES AND GUEST AGES:
Minimum 3 guests needed to operate this tour:
3 guests $125.00 per person
4 to 5 guests $115.00 per peson
6 to 7 guests $105.00 per person
8 to 9 guersts $95.00 per person
10 to 16 guests  $85.00 per person
All guests must be age 16 and older. Under age 16 must be accompanied by an adult or guardian.
PRIVATE e-SCOOTER TOURS STARTING IN FISHERMAN'S WHARF
PERSONAL TOUR GUIDE FOR YOUR PARTY EXPLORING AMAZING AND ICONIC SAN FRANCISCO DESTINATIONS.
YOUR GROUP WILL LOVE SCOOTING THROUGH THE WATERFRONT OR GOLDEN GATE PARK ON OUR NEW FLEET OF ELECTRIC SCOOTERS.
This one-of-a-kind fully guided and narrated experience takes you on a memorable and fun filled tour along San Francisco's picturesque waterfront from Fisherman's Wharf to the Golden Gate Bridge.
Or choose to start in Golden Gate Park and blast off on our scooters to Ocean Beach. A city as unique as San Francisco demands a unique way to tour it, and an electric scooter is the answer!
PRIVATE GROUP TOUR ITINERARIES:
The Wharf to Bridge Private Group Scooter Tour route follows the waterfront and allows guests great views of San Francisco Bay and the City Skyline. T
After a brief training session on how to safely operate the electric scooter, you will explore the San Francisco waterfront or Golden Gate Park for three hours.  Your experienced and fun tour guide will narrate your tour through a compact single ear-bud sound system.
Each guest is issued a compact radio receiver so they don't miss a detail of what the guide is saying about each site seen on the tour. Numerous stops are made for photos – so don't forget your camera.
MORE INFO ON PRIVATE E-SCOOTER TOURS IN SAN FRANCISCO