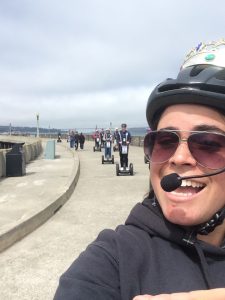 SAN FRANCISCO ELECTRIC TOUR COMPANY

Segway Tours. Private VIP Tour and Team Building Events
ABOUT:
Ride with the Original Bay Area Segway Tour Company – The San Francisco Electric Tour Company
For over 26 years, our family-owned and operated tour and travel publication businesses have promoted the notion that no town in the world is as much fun as San Francisco.The San Francisco Electric Tour Company offers fun-filled tours of one of the world's most beautiful cities on the world's most unique transportation device: the Segway!New for 2018 we added top of the line electric Scooters from I-Max and Eco-reco to the tour fleet.Whether you're an adventurous single looking for an unusual way to experience San Francisco or a parent with children over 12 years old trying to keep the family entertained on vacation, you'll love the unforgettable experience of riding a Segway. Folks over age 16 will love our new Electric Scooter tours.
Phone: 415-474-3130
Wharf, San Francisco Waterfront & North Beach – most popular Segway tour!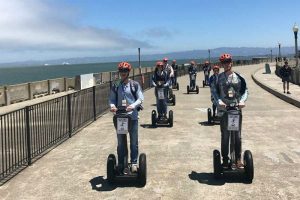 Visit the piers of world-famous Fisherman's Wharf and explore the hidden alleys of historic Little Italy in North Beach. Enjoy spectacular views of Alcatraz, the Golden Gate Bridge and the amazing San Francisco waterfront!
This fully narrated tour is 2.5 hours long, including fun training.
The Official Golden Gate Park Segway Tour
The Most Popular Golden Gate Park Segway Tour Route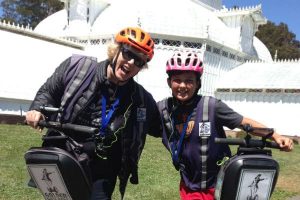 Have a blast gliding through seven beautiful miles of Golden Gate Park'slandscaped trails and roads.
Visit hidden sights that include the Lilly Pond, Shakespeare Garden and Fern Grotto.
The tour explores the park's East end, including the National Aids Memorial, Music Concourse, Pioneer Grove, and Stow Lake.
Tour guides share tidbits and trivia about the Park's stewards over the years, the impact of WWII on the Japanese Tea Garden, and the story of the park's historical transformation from bleak sand dunes to today's lush vista.
Electric Tour Company is the only authorized and permitted Segway Company in Golden Gate Park. Guided tours are the best experience – With our tour guides and headset narration you won't get lost and miss the best sights and off the beaten track corners of the park.
This fully narrated tour is 2.5 hours long, including fun training.